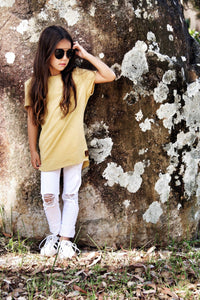 BEAU HUDSON - White Distressed Denim Jegs
Regular price $44.00 $25.00 Sale
These jegs are 100% unisex. As these are a skinny pair of Jeans, if your child is between sizes, we recommend sizing up. However these jeans are designed and made to fit snug, and like any pair of jeans, will stretch and relax on the body with wear. 
**Please note- our Distressed Denim is designed to continue to age and distress as it's washed and warn...so each piece becomes signature to it's wearer ❤️



SIZE                OUTER LEG
6-12m      40.5cm ( 15 3/4 inches)
1               45.5cm (17 3/4 inches)
2               51cm (19 1/2 inches) 
3               54.5cm (21 1/4 inches)
4               62.5cm (24 inches)  
5               67.5cm (26 1/4 inches) 
6               72.5cm (28 1/4 inches)
7               77.5cm (30 1/2 inches)
8               82.5cm (32.5 inches)
9                87.5cm (34 1/4 inches)
Care Instructions: Cold delicate machine wash with like colour. This garment is designed to fade. Do not bleach. Do not wring. Remove from machine immediately. Line dry in shade. Do not tumble dry.
72% Cotton. 25.7% Polyester. 2.3% Spandex. 
Designed in Australia.