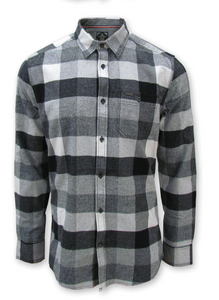 POINT ZERO - Mens Button Up | Eggshell/Grey
Regular price $58.00 Sale
DESCRIPTION
Introducing our Long Sleeve Cotton Light Brush Flannel, the perfect combination of comfort and style.

Crafted with 100% cotton, this flannel shirt offers a soft and breathable feel, ensuring all-day comfort.

The light brush finish adds a subtle texture, enhancing its visual appeal while maintaining a lightweight design.

With its long sleeves, this flannel PROVIDES VERSATILITY FOR LAYERING OR WEARING ON ITS OWN, making it suitable for any occasion.

Whether you're heading to the office or enjoying a weekend getaway, our Long Sleeve Cotton Light Brush Flannel offers the perfect blend of comfort and style, keeping you effortlessly fashionable.

Elevate your wardrobe with this timeless classic that will become your go-to choice for casual and comfortable outfits.


- Material: 100% cotton, ensuring a comfortable and durable fabric.
- Woven Construction: The fabric is woven, providing a sturdy and well-structured garment.
- Warmth: Designed to keep you warm, making it suitable for cooler temperatures.
- Cotton Comfort: The cotton content adds softness and breathability, ensuring a comfortable wearing experience.
- Machine Washable: Easy to care for, as it is machine washable, saving you time and effort on maintenance.